Grateful and Thankful for Thanksgiving
Thanksgiving traditions. All throughout the United States, many families gather at the dinner table for the turkey-themed holiday. Here in Novi, students have similar plans and look forward to the holiday break. From staying here in Novi, resting and relaxing on their couches with their family, enjoying some early-afternoon Thanksgiving football and a nice dinner here at home, to traveling all over the country and furthering the traditions they partake in at this time of the year. 
Sophomore Tim Mansour enjoyed staying local over the break.
"I stayed here in Novi over break. I'd say spending time with family was the most enjoyable part of Thanksgiving," Mansour said."It's been a while since I've seen my family. Especially my cousins and it was great to see them again over the Holiday break."
A number of students participated in a poll with the majority saying they were staying in the area and having dinner at home with their immediate or extended family. A handful of other students were traveling to meet with family, in the area, where they typically get together for dinner. Those who were traveling out of town were going somewhere more warm and enjoyable than the icy Michigan snow. From Florida to Virginia and California, many students had traditions where they would schedule a vacation over the break and migrate to someone a bit more climate-friendly. 
Sophomore Gabe Polteraitis agrees staying here over break was relaxing.
"My favorite part of the break was eating all the food with my family here in Novi. Being here at home was more than enough and relaxing," Polteraitis said. 
Early on, at noon on Thanksgiving day, I got the opportunity to see the Detroit Lions game. Workers were handing out holiday themed merchandise, crowds were yelling and smells of fresh food in the cold air made the atmosphere content and very Thanksgiving themed. Huge crowds flooded into Ford Field that morning and the Lions put on a show against the 8-3 Buffalo Bills, who are ranked second in the AFC east conference. The entire game they played hard with determination to bring home the win for Detroit, but they didn't end up finishing strong, losing 28-25  on a field goal in the fourth quarter. Attending the game was my way of celebrating with my family over the holiday break.
Leave a Comment
About the Contributor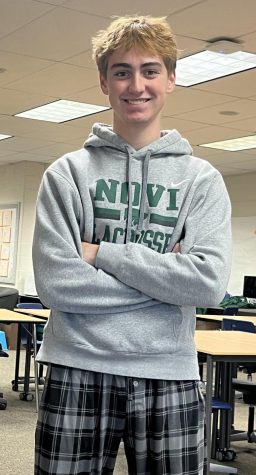 James Edwards, Staff Writer
James Edwards is a sophomore at Novi High School. This is his first year in journalism. When he isn't practicing, he's spending a lot of his time with...