Cupcake competition on the clock
Students in Food Science compete in groups to win the title of best cupcake
Have you ever been sitting down at home, relaxing and one of those shows comes on where contestants are cooking something appetizing in the oven for the judges to compete against each other for a huge prize? Well, here at the high school, Food Science does just that.
Kacy Byron, a Food Science teacher here at the high school shares that Unit 4 in Food Science is Cake and Cake Decorating. Cupcake Wars covers the specific science standards for professional food preparation techniques, planning principles and methods, and demonstrating food safety and sanitation. 
In Cupcake Wars, students compete against each other to win the title of best Cupcake. The theme for this year's wars goes along with the spooky season, Fall/Halloween. Although each group had to incorporate the theme, groups were able to research and come up with any recipe they desired. Students had to start baking completely from scratch and fill their cupcake with an ingredient of their choice such as cream, along with crafting their frosting.
Upon completion of their project, judges graded groups on creativity of the project, the taste, and their displays or presentations. Byron adds that this year, Volunteer staff members served as judges. Five judges were in charge of grading each group. First, second, and sixth hour Food Science classes competed.
Sophomore Brayden Murphy, one of the winners from second hour Food Science, shares a moment from his experience.
"I really enjoyed the entire project but making our frosting from scratch was the most memorable part. Our theme had been graveyards and pumpkins so putting together our design took a while but worked out really well. At the end of the day, to see that our team had won after working hard on our cupcakes felt content," Murphy said .
Winners select prizes that differ each year. The winners this year in first hour were Preston Johnston, Audrey Verbracken, Meaghan Tunney, Antonio Cappella and Dirk Scott. The winners in second hour were Andrew Abler, Cam Barrett, Zack Kuzma, Dylan Lluch, Brayden Murphy, and Nic Russo.
Leave a Comment
About the Contributor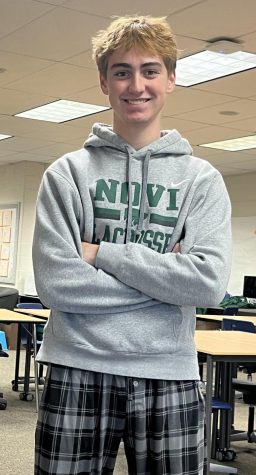 James Edwards, Staff Writer
James Edwards is a sophomore at Novi High School. This is his first year in journalism. When he isn't practicing, he's spending a lot of his time with...