Superintendent Ben Mainka brings Renew, Reinvent, and Reconnect to Novi
If you've seen an average-build, blonde haired, blue-eyed man donning a green Novi polo, you've probably met the new superintendent.
Ben Mainka, Novi's new superintendent of schools has worn many hats in his years of experience in education. Mainka started as a teacher, kicking off his career at a South Lyon middle school as a science teacher and three-sport varsity coach at one of its high schools.  Later, he worked around the state doing consulting work with the Michigan Association of Principals, where he dove into the specifics of administration at schools across the state. 
He just finished up a six-year stint at Swartz Creek, about a 50-minute drive from Novi, serving as the superintendent, before taking Novi's position. He said there are many familiar faces in the district and that his 25-minute drive were both factors that drew him to Novi. 
Unity between the city, police and fire, and the library, along with the tight-knit feel of the community, were things that drew Mainka to the district. 
"Quite frankly, [Novi] is where we spend most of our free time," Mainka said. "We go to restaurants here; we go to shows here. On top of all those personal factors, it was just an amazing school district with an amazing reputation, students and staff. It became very clear that it would be a great opportunity." 
With a new superintendent comes a new mantra: Renew, Reinvent, and Reconnect. 
"We want to get back to whatever normal is. I think we've learned a lot of positive things from the pandemic, but getting back to a certain sense of normalcy and being able to focus on connecting with others is key," Mainka said.
He says he wants to refocus his staff as well. He acknowledges that the past few years have taken a toll on the mental and physical health of both staff and students and part of his mantra centers around the idea of tackling fewer initiatives at once. 
"There have been a lot of leadership changes. Staff has been letting me know that they've got a lot on their plates and that they're stressed out, those types of things," he said. 
He intends to shift the focus away from big-picture initiatives for the time being and hone in on student-staff connection. 
"The most innovative thing I can do right now is actually making people feel comfortable, seen and supported in what they're doing and that's across the board," Mainka said. 
However, refocusing doesn't mean that the district is letting off the gas pedal by any means. One ambition Mainka hopes to work towards in the near future is changing the way the high school approaches students who don't aspire to attend an Ivy League school or a Tier One University. 
"It's really about broadening the scope of what we offer at the high school to really allow for our students to jump into careers and jobs with marketability," Mainka said. "We want them to be able to go into the job market, or at least a program where they're getting a credential, where they're far exceeding the training and expertise that students from other districts have." 
In addition to that initiative, Mainka said he hopes to focus on school safety. State-of-the-art cameras and security protocols will be brought into schools in the district in order to ensure that staff and students feel as safe as possible. As part of a school safety committee that works throughout the state, Mainka is able to offer up his expertise and bring innovative ideas to the table. 
Mainka also said that it is crucial that students are well-rounded and that education goes beyond academic content taught in classrooms.
"It's really important that we have rigorous academic content and curriculum, but what are we also doing to teach things about collaboration, cooperation, being a good team member, empathy, and how to be an active listener? All of those soft skills really represent a total education. And that's a big part of a future docket," he said. 
Mainka's predecessor, Doctor Steve Matthews, was active in the Novi school district for 11 years. 
"Someone like Doc Matthews, those are very hard shoes to fill. I'm not trying to be Dr. Matthews. I think he's the only Dr. Matthews, but hopefully I'm able to establish relationships with student and staff that's a little different, but still very positive," Mainka said. 
He's hosted events with elementary school students, reading to them, but expects to connect with high schoolers in different ways. He says he will be attending football games, FanFare, a band competition hosting over 12 schools, and other big events as well as popping into classrooms to have organic conversations with students. 
Additionally, within the next month, he plans to launch a Superintendent Advisory team that will be composed of students in grades 7-12. The team will give him feedback on procedures and how initiatives affect students. 
"That group of students will be my eyes and ears and let me know what's really going on in the schools," Mainka said. 
The team will meet monthly and will be composed of diverse students of different backgrounds, interests, and school involvement levels. He said each year he expects to see some new faces and keep some key players around for several years to ensure there is always a mix of new ideas. 
"There are a lot of overall moving pieces to [the job], but I can't say anything but positive about the reception I've received from staff and students," Mainka said. "Everyone has been overly welcoming and really kind."
Leave a Comment
About the Contributor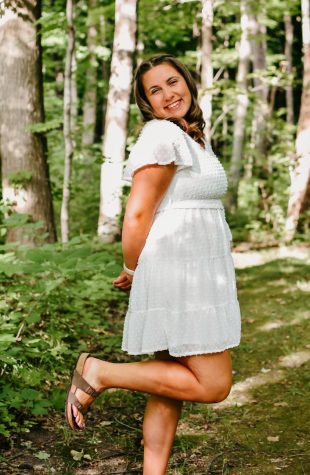 Makayla Stewart, Editor in Chief
Makayla Stewart is a senior and this is her fourth semester in journalism and her third semester as an Editor-in-Chief. When she's not in the throwing...