O'Cafe opens doors in Novi
Asian-styled pastry and drink cafe opens up in Novi
O'Cafe is a quiet oasis in a town of hustle and bustle. Opening during the peak of the COVID-19 pandemic, the cafe has greatly succeeded in the area, gathering many people of different ages and backgrounds to celebrate foods and drinks centered around Asian cultures.
My immediate reaction stepping into the cafe for the first time was how lovely and peaceful the environment of the place was. Even by a busy main road, the cafe had a welcoming and calm ambiance, with jazz music playing throughout the room. 
The walls were decorated to the T with coffee slogans and sayings in cool green colors and tones. Offered in the cafe are a wide variety of Asian pastries filled with fruity custards, creams, and more fillings for customers to pick out and enjoy. The room is filled with lots of natural lighting and secluded areas for sitting making the place feel homey and warm, a perfect place to chat or study.
 If a customer needs a coffee kick bright and early, there are a variety of espresso options available, straight espresso or a sweet and frothy latte. For the tea enjoyer, there are sweet specialty teas as well as house-brewed teas for a smooth and sweet drink. In addition, there is a mini-fridge full of a variety of drinks for easy access for customers in a rush, rather than ordering from the menu. The fridge is stocked with the likes of boba in cans, sports drinks and apple juice.
Prices are not terribly expensive in terms of drinks, ranging from $2.20 to $5.30, on par or even a little cheaper than the average coffee chain. In my opinion, it is better to spend money on a small business than a corporate chain, in which you receive more variety and better quality items.
If you are looking for a sweet treat or drink for any season, keep O'Cafe on your mind for your next outing.
Leave a Comment
About the Contributor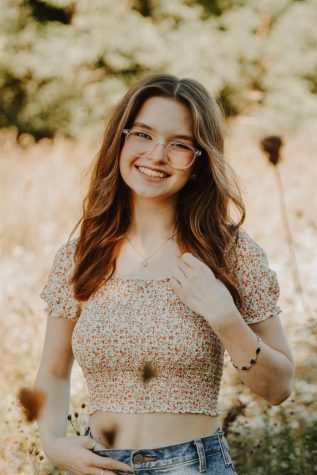 Lily Stroup, Editor in Chief
Lily Stroup is a senior at Novi High School. This is her second year being one of three editors-in-chief, and her third year on staff. She loves photography,...