Broccardo bends over backwards
Senior Bailey Broccardo is a human rubber band. Legs over their head, over extended splits, sorts of things a person of normal flexibility would cringe at the thought of.
"Growing up, I literally walked around in a backbend for a year, and that's not an exaggeration at all," Broccardo said."I have a naturally bendy back, but I also used it to my advantage. I was handed a good body, but I also put in a lot of hard work to get to the level I'm at."
Simple things growing up sparked Broccardo's interests in all things contortionism.
"As a kid, I grew up on monkey bars, like that was me. I was just all upper body strength, it was just so fun," Broccardo said. 
That interest led to intensive training and learning, including stretching for twenty minutes a day to maintain and increase flexibility. They started training twenty hours a week for ballet, as well as an hour during school for Novi Dance Company.
But during the COVID-19 pandemic, Broccardo's focus was able to change. 
"Ballet was very tame and safe, but was also very difficult and very restrictive as to what was allowed," Broccardo said. "You had to be very feminine and present yourself in a certain way that wasn't as free for self expression." 
The art of circus aerialism and contoritionism allows Broccardo to express their androgynous side, they said. They were able to be accepted into a family of performers that embraces this side of their personality, using their art as a form of self-expression, especially as a non-binary performer. 
"My greatest therapy in life is putting music on and just doing a circus flow or an aerial flow to that song, just literally moving to how the music tells you to move," Broccardo said.
Three years ago they started spending most of their time at Detroit Fly house, and committed to training three hours a day, five days a week. Contortionism is extensive, and adds more strain on the muscles. 
"You always want to do a warm up and cool down after you train, because you don't want to do a lot of back bending for the class or the day," Broccardo said. "Follow up with some core work, you want to do both sides of your body equally so that you're evenly stretched, that's just like a general rule."
Broccardo expressed how being able to show off their skills and gain feedback strengthened the love for their art. Participating in the Youth America Grand Prix, they traveled to Chicago, Philadelphia and Toronto, winning top six in contemporary and top twelve in ballet nationally. Performing in front of the audience with the adrenaline rush is one of their favorite feelings of competing, as well as the validation of awards. 
Broccardo doesn't have any competitions on their mind because of COVID-19, but they plan on auditioning for Cirque du Soleil.
The future is uncertain for Broccardo, but they know their love for all things aerialism and contortionism will not falter. Teaching at the Detroit Fly House studio where they learned and grew at was an achievement for them, instructing a variety of ages anywhere from eleven to sixty-eight, as well as beginner to advanced skill levels.
Leave a Comment
About the Contributor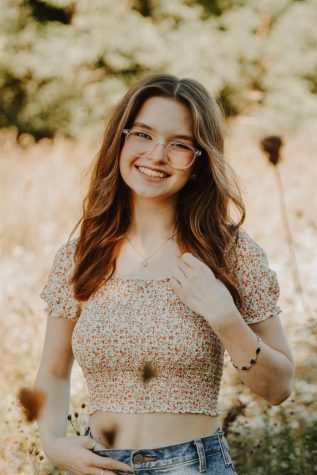 Lily Stroup, Editor in Chief
Lily Stroup is a senior at Novi High School. This is her second year being one of three editors-in-chief, and her third year on staff. She loves photography,...