Vacationing at Theme Parks During a Pandemic
(And what to keep in mind)
Spring Break is fast approaching, and with vaccines rolling out and COVID cases dropping, many people are talking about vacation plans. 
Theme parks are some of the biggest vacation hot spots. With places like Walt Disney World and Universal Studios Florida being open for business, there are a couple things one must keep in mind when navigating them during the pandemic. 
Safety is of utmost importance, so masks are required  at the parks, hotels and in restaurants while waiting for food. When they reopened, Universal Studios Florida set up designated areas called, "U-Rest Zones" where guests can take off their masks for however long they want. 
Lines in both parks have significantly longer wait times due to the need for parties to stay spaced out. Ride vehicles are also spaced out with every other row being filled cutting ride capacity in half. 
At Walt Disney World, plexiglass dividers are installed in several rides to make sure any virus, Covid or otherwise cannot spread between guests. 
Both Disney and Universal are very serious about the mask rule. If any guests take off their masks at any point during the ride, it will be stopped and will not continue until guests comply. 
More information regarding safety is provided in the infographic below: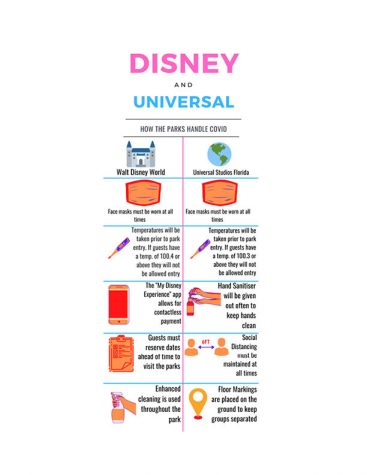 If you are traveling via airplane, there are several other things to consider.
Masks are required throughout the airport, unless of course people are eating. If your airplane has entertainment screens installed in the back of seats, disposable wipes will be distributed to wipe them down before and after the flight. 
When traveling during a pandemic, safety is key if you want to have an enjoyable experience. It is highly recommended that anyone traveling get a COVID test before you go back to work and/or school. 
As long as you have fun safely and responsibly, you should have no problems.