Kerbrat adopts dog after family losses
New adoption helps family cope with recent losses and governor's stay-at-home order
Students may have noticed a new addition during their Xello Zooms– a beagle, running in and out of the camera frame. 
This beagle's name is Max, and he has been a frequent guest on Jennifer Kerbrat's Zooms, providing her the opportunity to encourage students to show her their pets.
"Kids would turn their cameras on and show me their pets … It was a way of interacting and getting the students to share," Kerbrat said. " When the cameras are on, or we're sharing screens, then I go home happy, or if I'm at home, I feel like I did something well …  I know you guys are missing your friends, we're missing all of you."
Kerbrat and her family adopted Max in August, but unlike many other families, they did not do it because of the extra time at home. 
They had already had two pets. Milo, a hedgehog, and Rocky, a beagle. On Feb. 29 2020, they lost their beloved beagle Rocky, and didn't feel that they were ready to adopt another dog.
But at the shelter Kerbrat frequently worked with, there was another beagle, Max, around 4 years old. When Sarah, her daughter,  heard of this dog, she was adamant that they adopted him. 
"Max took to her instantly, at the rescue center," Kerbrat said. "The only reason why Max is with us is because of Sarah, because she begged and pleaded."
The Kerbrats began by fostering Max, and teaching him things like potty training and basic commands. They then had the option to adopt him, let someone else adopt him, or send him back to the shelter. 
"We knew that because we were going to be held down, we would have almost six months in order to acclimate him to our household," Kerbrat said. "We thought that that would be the best way to get him used to our house and everything, because we wouldn't have to crate train, we wouldn't have to do all those other things that you would do with a puppy," Kerbrat said.  
"We could really just work on that routine with him and go from there. Because we were home."
Although the extra time at home made it easier for them to train a new dog, convenience wasn't the reason they ultimately decided to adopt Max. 
A month after Rocky died, Kerbrat lost her father. She also lost her sister-in-law and her husband's great uncle. 
"It's helped with the healing process … just having that affection and that joy of someone else being happy that you're around and happy that you're home is great," Kerbrat said. 
Max's favorite way to show this happiness is by doing a little happy dance when they get home, especially when they come home after a long work day. 
"He can walk on his back legs, and … he does this whole dancing-prancing thing and he doesn't bark, he's not angry, it's pure joy of having anyone in the family walking in the house, to the point where he wants to tackle you the ground," Kerbrat said. 
Through the hardships of these past few months, Max has been a bright light for the Kerbrats, providing an invaluable emotional connection when things got tough, as well as a stabilizing routine.    
"Max gave me a reason to wake up. I had to feed him, I had to take him out. We take him for walks. Max gave us a routine. He gave us grounding," Kerbrat said. "He would know that we were upset, but he doesn't know why. And when you're dealing with an animal, they don't necessarily have the same emotion that we have. But he would, on bad days, he would sit there with each one of us. 
"He would make sure that he was always near us, which was very surprising for a rescue, that he was so instantly attached to our family. We thought that it would take him a very, very long time, and it was very quick."
Having that emotional connection when physical human contact is limited has helped the family. 
"It's just really calming for all of us, because having a bad day, through all of this, it's really hard because you're not hugging other people a lot, and getting that from Max, he's providing what we can't get from other humans," Kerbrat said. " It's just, it's really nice that way." 
Besides comfort, Max also provides a good laugh. As a beagle, he is an incredibly intelligent dog, and a very good sniffer. 
"We have one of those step garbage cans that you step on [and] in the middle of the top, we have a giant hand sanitizer gallon jug filled sitting on top of it because he knows how to step on it and get into it," Kerbrat said.  
"He's very smart. And so we had to have doors shut everywhere because he'll go into [rooms]. I've come home before and he's crawled under my covers, sleeping like a human being. So, it's very scary how smart this dog is. We weren't expecting that," Kerbrat said. 
Not only is Max smart, but he's also aware of the trouble he causes. One of his favorite things to do is take items like pens from Sarah and hide them behind a living room chair.
"She'll be sitting there, and she'll be using a pen and he'll grab the pen and run off because he has a spot that he hides things behind the chair in the living room. And she pulled the chair out and she's like, 'Why are my bathing suits here?'" Kerbrat said.
"He'll just make a nest of all these things that he doesn't take anything from anywhere else, just Sarah, because he's trying to get Sarah's attention," Kerbrat said. "She's pulling everything out behind his chair, and he's just sitting there with a big smile.
"They are like siblings, almost, already. She actually said it was like having a little brother in the house, because like we said, he's super, super smart. We know he knows what he's doing, but he also knows."
Max has also helped Sarah with the times she spent learning at home. 
"Max got her through having to be stuck at home. Having someone else sitting there with her, because Milo isn't like that …Max can just kind of hang out," Kerbrat said.
Max doesn't just follow Kerbrat to her classes, but everywhere else, too. 
"He's my shadow. Wherever I'm at, it's like having a 2 year old, doesn't matter which room I'm in, in the bathroom–He's there. So I take a shower he sits there and waits. Anything I do, Max is right there," Kerbrat said. "It's like having a comforting shadow that's with me everywhere I go."
Max is certainly grateful for his new family. When the shelter found him, he was severely neglected and abused. He had numerous scars on his body from cigarette burns and infections scarring over. 
"I think we've all saved each other," Kerbrat said. "He knows that he's going to get well-fed and well taken care of and well loved in our house. We give him 100% and he's giving 100 plus back to us."
About the Writer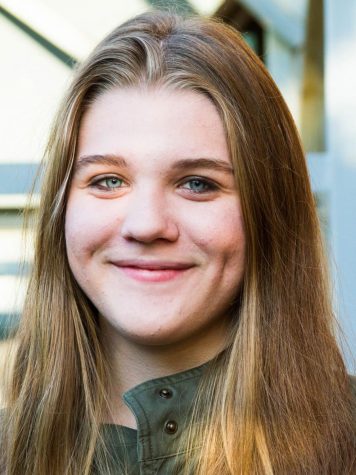 Isabelle Raudszus, Editor in Chief
Avid Reader. (Trying to be) consistent writer. Always listening to music, pretty much anything besides rap. I believe each student is more than a face...