Voco: Everything you need to know
This year's homecoming is going to be unlike any other. Student council has been brainstorming how they can make this year's festivities happen in a safe and enjoyable way.
Executive Board President Emma Putti has some insight on what homecoming will look like for students.
"Obviously, a dance is not going to be possible, a pep rally is not going to be possible, a parade is not going to be possible," Putti said, "so it really limits what we would be able to do."
Student council is looking at two different plans. One is virtual and the other is in-person. The hope is to carry out both plans, Voco in October and Hoco during second semester. 
Voco, Novi's take on a virtual homecoming, is happening next week, Oct. 26-30.
"There will be virtual activities each day that you can participate in, delivered through your email. If you end up winning, you'll be getting an eGiftCard to the Cat Rack," Putti said. 
Some of the festivities include the best spooky movie bracket, match the teacher to the costume, and a virtual performance by Novi Dance Company. 
Nominations for homecoming court have already been sent out via email, and Royalty will be crowned on Wednesday for individual grades. For Class of 2021, a whole-school voting ballot will be sent out, and Senior Royalty will be chosen on Friday. 
Monday is Pajama day
Tuesday is Sweater Weather
Wednesday is Costume day
Thursday is Green and White day
Friday is Flannel Friday
As per homecoming tradition, students will be able to upload their spirit day pictures to enter the contest for Spirit Royalties. Those interested in participating should check their email for details on where to send their photos. Teachers will be voting on Spirit Royalties and winners will be announced Oct 30. 
Students were sent an email regarding spirit weekend event details from Mrs.Schypinski, Student Council Adviser. Teachers are being asked to share video updates with their second hour throughout the week. 
Putti said that the hardest part of planning Voco was figuring out how to do everything virtually. Hoco, which will be happening in spring, would be more traditional. 
"In the spring, on the premise that everything is cleared up and we're able to go back [to school] at almost 100% capacity, then it would be like a normal homecoming dance," she said. This would include a parade, a dance and a pep rally. 
"We want people to feel more comfortable, especially for the freshman and senior classes, since it's their first and last year to get to have [homecoming], and experience it," she said. 
Putti said she is hopeful there will be some normality to this year. 
"Whatever the school decides, I hope that we get to have a relatively normal year for the most part, and we're all doing the best we can to figure out what we can and can't do," she said.
Leave a Comment
About the Contributor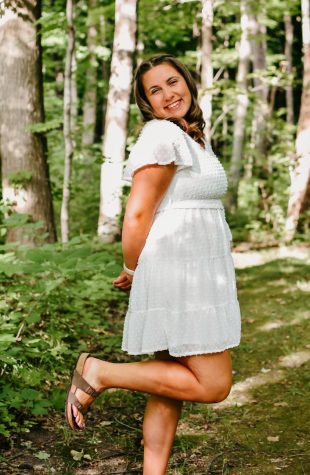 Makayla Stewart, Editor in Chief
Makayla Stewart is a senior and this is her fourth semester in journalism and her third semester as an Editor-in-Chief. When she's not in the throwing...