What a pickle!
NEF awards Polce pickleball grant; new equipment excites students
The Novi Educational Foundation (NEF) recently awarded 30 classroom grants across the district, including four at the high school level. Each year, the NEF extends grant opportunities to teachers who seek to promote educational leadership and academic excellence.
Meghan Polce, physical education and health teacher, was granted $2,500 towards her grant titled "What a Pickle! Pickleball."
"Pickleball is the number one growing sport in the country. It's a cross between badminton and tennis, and it's a sport that anyone and everyone from all ages and abilities can participate in," Polce said. 
In her previous district she was able to receive a grant for pickleball. She began integrating it during open gym time and was able to use a similar approach here.
"We used pickleball all the time. Whether it was a full unit, an activity for the day, or if it was something that we did during open gym, it's just fun," she said. "It's easy, and it's something a lot of people can do." 
When she arrived at Novi, she noticed that the pickleball equipment was subpar. 
"One of the biggest complaints [we get from students] is that some of the equipment just needed to be updated. It was falling apart. We're constantly duct taping and gluing, so the grant award is going to help us out a lot so we can run it much, much more effectively," Polce said. 
"We were short on paddles and it was something that from all perspectives, myself and the other PE teachers, felt that we really, really needed," Polce said. "So, I put in the grant, priced out some of the equipment and we [immediately] started implementing it in our classes."
She said the students immediately grasped the concepts and have enjoyed the pickleball unit in her class. Polce said that students get very competitive with it. 
"I spend about two weeks on it in my team sports and lifetime activities classes," Polce said. "We run it with a full tournament, so we do a few days [of] the skills we actually have to have in order to play, then we'll run a full scale tournament with it."
Not all classes use pickleball in the same way, but Polce said the equipment will be used by nearly every PE class. 
"It looks different in different classes. Some [PE classes] won't spend as long doing pickleball for maybe just a week or a day or two as an activity of the day."
Polce said she was grateful to be able to use pickleball more in the curriculum. 
"The day they awarded me with the grant we were actually playing pickleball and it was really funny because the kids all cheered," she said. "They were like 'Yay! We get new rackets. We get new paddles!'"
Leave a Comment
About the Writer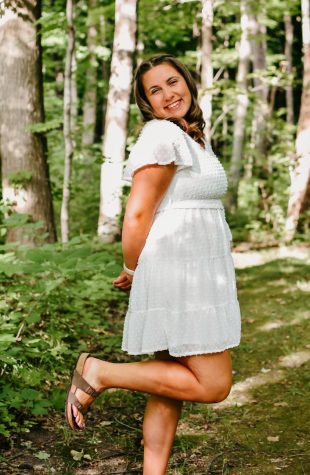 Makayla Stewart, Editor in Chief
Makayla Stewart is a senior and this is her fourth semester in journalism and her third semester as an Editor-in-Chief. When she's not in the throwing...