Board of Education candidates share reasons for running, goals
Why are you running for the school board?
Beaudoin– "I'm running for school board because I care a lot about all of our students and our teachers and I want to make sure that you guys have somebody on your side at the board table."
Hollman– "My personal motivation to run for school board started in the fall of 2020 when our students were dealing with only seeing their teachers two days a week or in the all-virtual option.  As a parent, I saw that it wasn't working for many students, including my own, and pleaded with the administration to pivot and put students in the hybrid model back in school 4-5 days a week like neighboring districts had done without incident. Those pleas fell on deaf ears and I told my kids that I wouldn't let the decisions that caused Novi students to suffer academically and emotionally happen again.  Running for school board is the best way to ensure that."
Michener– "I've always been involved in my son's school. When COVID hit, I got way more involved in the day-to-day. I was kind of like the teacher aide as he was virtual and I got way more involved in the curriculum he was learning. I wanted to find out what the school board was doing and how that was affecting his actual classroom experience and what policies they were putting in place. So, I started watching school meetings virtually. When they moved from virtual to in-person, there were still things that I wanted to be able to speak my opinion on. I started going in person even though that was kind of at the edge of my comfort zone at that time. I wanted to make sure that my voice and voices similar to people that I know in my social circles were being heard. I wanted to show up and make sure that I could let the school board know about my opinion, just so they could make balanced decisions. Later on, I found out there are committee meetings that are open to the public. I started attending those, and I realized that I had a skill set that I could lend to help out. So, I made the decision this past winter to run, and I wanted to do so by petition. I actually went out and got signatures from 100 Novi Community School District residents, that said 'Yes we support him being on the ballot.' I believe I'm the only candidate that did that process because I wanted the community's support."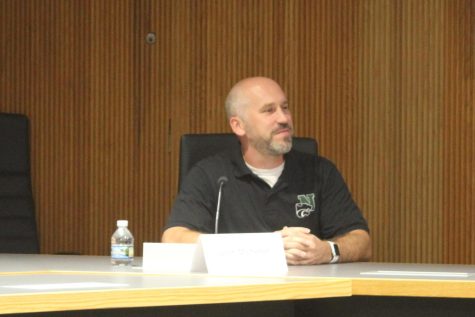 Are there any specific focuses or topics you are hoping to address if you are elected?
Beaudoin– "We all agree academic excellence is a priority in Novi schools. I think that the way we get there is by creating a culture of belonging and making sure everybody feels safe and welcome in our building. I think we need to focus on our student and teacher mental health coming out of the pandemic. Finally, I want to work on teacher retention, because there's a huge teacher shortage that's starting and it's really going to increase in the next few years. I want to make sure Novi is a great place for kids to learn and for teachers to teach."
(…)
"I've been advocating for our marginalized students for a couple of years now. I want to focus on making sure everybody is safe and welcome. I think it's really important that we have literature that represents different groups and that our books are a mirror of ourselves as well as a window into the lives of others. (…) As far as mental health, we pretty much all agree that's really important across the board. But one issue we have is that paying for our counselors and mental health staff comes out of the same bucket that pays our teachers. So if we want to have more of those services, that's going to mean we have less funding for our teachers at a time when we are having a teacher shortage. I think we have to think creatively about ways to bring in more mental health services in a way that doesn't impact our budget. (…) As far as teacher retention, like I said, there's a big teacher shortage happening. I think it's really important that we figure out ways to make sure our teachers are compensated fairly and that they can happily stay in their jobs because happy teachers are better teachers, in my opinion. That's a really important thing for us to focus on and I want to try to open up communication between the school board and the teachers so as board members we can have a good sense of what we can do to help make sure that they're happy in their jobs here."
Hollman– "Novi has a deserved reputation for being great academically, but I would also like to see an increased investment into students in the arts and trades or students who simply do not want to follow a traditional college path to their career.  As an example, I would like to see Novi partner with local small businesses to give students mentorship opportunities on how to run their own small business.  Not simply giving students a job, but meeting with them regularly to give them insight into things like inventory management, scheduling, payroll, and the like to give them foundational knowledge should they decide to start their own business."
Michener– "We're in the middle of a spend down of our $180 million bond. The way we invest that money into our school district determines what the school district can and can't do for the next five to 10 years because we're not going to go out and get a bond every year from the community. That money has to be invested wisely. The STEM Center is an obvious example. That expansion is critical because it enables us to facilitate education for the next decade, and help kids graduate with all the experiences they need in the economy as it's becoming more digital, more electronic, more robotic. If we spend our millage dollars in a wise way, there may be some happy instances where we can serve the primary function of what the bond was for, but also the secondary function of reducing the general fund cost. For example, the government had the Clean Bus Rebate program by the EPA. They would give our district up to a quarter million dollars per bus if you apply and are accepted. We committed to the community that we were going to spend the bond on buses; it's within the language on the ballot, so it's something we have to do. But wouldn't it be cool if we got some government funds to aid in that purchase? The secondary effect is, if you replace a diesel bus with a clean bus, you can reduce maintenance costs by several thousand dollars, maybe even tens of thousands of dollars a year. If the school eventually turned over its entire fleet of 25 or 27 buses, we could be saving up to $400,000 a year- which is almost a quarter of our transportation budget, which is entirely in the general fund. You can imagine if you save $400,000 a year and pull that out of your general fund expenses, you can put that somewhere else in the general fund. We would be able to offer more competitive salaries for teachers to retain and recruit top-quality educators and a whole bunch of other measures that otherwise we wouldn't be able to do. I think where my engineering talents will come into play is finding those issues, figuring out the root cause, and then developing solutions and iterating that process. The secondary thing is finding those problem spots that are like warning lights on your car's dash, the warning light comes up, and it may go away. You're like 'Cool, I don't have to worry about it,' but if it comes up again, you can make a choice. You can be like, 'I'm gonna ignore it, it'll probably go away,' or you can be like 'I'm doing something about it.' If you ignore it, chances are you could have a small problem and the car is running fine. But over time what was good parts become damaged by the one part that was bad. Then you have a catastrophic failure in your vehicle where it doesn't run anymore. I feel like there are warning lights in our district of things that are not working, but they're small, and overall this district is still scoring high.But if we don't address these small problems they could be indicative of a larger system failure that is coming. I feel like now is the time to dive in, understand the issue, and resolve it. It's easy to replace a spark plug. It's much more expensive to replace an engine. I feel like a good example of a warning indicator is the achievement gap for black students. I feel like they are being adversely affected because I do not believe inherently there's anything different about that demographic than others that would explain the lower scores. That means that there is a systematic issue. If we address that successfully, not only will it help out the affected population, but it will help out the whole population."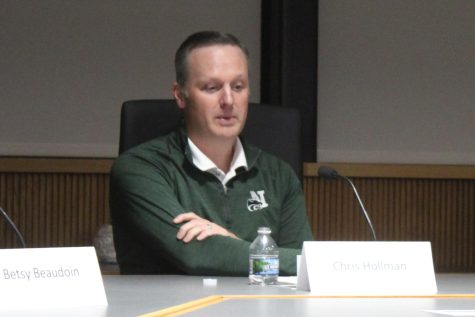 What differentiates you from the other candidates?
Beaudoin– "What differentiates me from the other candidates is the relationships that I have with this city and with our school district and the people in it. I am actually a Village Oaks kid and graduated from Novi High and we moved back here for the school district like so many people have. I've got three kids in the district and my littlest one is in second grade. But we have had a student at V.O. (Village Oaks) for eight years now, so I have great relationships with the teachers here. As for the middle school and Meadows, I've gotten to know the administration and the teachers. I have great respect for the educators in this district because I think they're such a critical part of how our city has grown. And I think that is kind of the thing that sets me apart is that I really pay a lot of attention to our teachers and our students and making sure that we're meeting their needs, and I try to work as collaboratively as possible with our teachers and really view the relationships between parents and teachers as a partnership."
(…)
"I do have a student campaign team as well because I have the support of the high school students. I have a student campaign manager and on my website, there's a sign-up specifically for student volunteers because I care a lot about the voice of our student body and incorporating the thoughts and feelings that you all have into my campaign. I've done two student roundtables where I invited a bunch of different high school students to tell me a little more about their experience and what they think the adults that make decisions about their lives should know. I think the best way to learn things is by asking enough questions to understand the problem more completely. I've had a great time meeting so many of the kids."
Hollman– "Although I am a pharmacist, I do not work in a traditional pharmacist role filling medications.  I am an employee benefits consultant and my job is to assist corporations in managing their pharmacy and other healthcare costs.  Some of my clients spend hundreds of millions of dollars annually on employee health care, so it requires a very data-driven mindset and the ability to think creatively. That data-driven mindset is what caused me so much concern about the policy decisions we were following during COVID.  Often we were following local health orders without digging into the data and asking 'Does this make sense?' and challenging those decisions where they were affecting our students, such as removing healthy students from school simply because a classmate tested positive for COVID.  If there is one thing our schools should be championing, it is the ability to think critically and look beyond the headlines.  In many ways, although well-intentioned, I think we failed to live up to that promise to our students during COVID."
Michener– "From a practical standpoint, I was the first candidate in March and the only candidate that ran by petition. I am the only candidate running as an engineer, that systematic approach to problem-solving, that data-driven analysis is critical. In order to be a high-functioning board, you have to understand the rules in which you function. Our board runs on Robert's Rulesand I saw that understanding those rules is essential to being able to function efficiently and effectively as a board member. I have gone of my own volition and joined the National Association of Parliamentiers, in which you have to pass an exam to get in. That was something I wanted to do so that I'm not wasting my fellow board members' time, I am efficiently getting the concerns from my community in front of the public at the board meetings and presenting them in a clear, concise way for my fellow board members to consider so that we can get things done. It breaks my heart when issues are brought up, they're discussed, no action is taken, and then they reoccur because nothing was addressed. I am really committed to figuring out how to make the school district work for all people, to see people as people and not as groups or subsets. How can we as a system make it better?"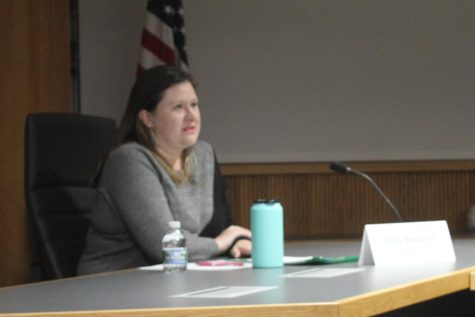 Is there anything else you'd like to say? (This is an open space for anything you think is important or anything you would like the community to know.)
Beaudoin– "I am endorsed by our teachers' union, and also by Dr. Matthews, which I think are pretty great endorsements. I think that both of those groups of people have demonstrated that they care deeply about our district and our students. I also care deeply about our district and our students so those things mean a lot to me."
(…)
"I've been attending school board meetings for two and a half years now and what I think the primary job of the school board is, is that they set the tone and the direction of the district. So while individual board members don't have any specific authority, as a unit they make decisions on how we spend our money, and what our priorities and goals are going to be. And of course, they are responsible for having hired our new superintendent, which again, sets the tone and the direction of our district."
Hollman– "Our strength has, and always will be, our students and our teachers, who are really the ones that have made Novi a paragon of public schools in the state. Our district has been through a lot of division over the last two years related to COVID and other school board issues.  We appear to be on a great path forward with the hiring of Ben Mainka as our new superintendent, the removal of COVID policies that negatively affected student learning the past two years, and on the way to a normal school year. I am happy to see the proposal for an official student representative to provide updates at school board meetings, which is something that was originally proposed by Novi senior Sky Ueki.  Hearing directly from students in a forum such as the school board is one way we can 'walk the walk' of embracing student voices.  I am a problem solver who listens to all sides of an issue and, above all, I will always put the interests of our students first."
Michener– "I'd like the community to know that I am absolutely committed to putting in all the effort and showing up at every meeting, every time prepared. If there's one thing I can promise them, it's that they will always have a prepared board member show up and discuss the issues at hand and talk about why I'm voting which way at the end of the day. Whether you liked how I voted on an issue or not, you will understand exactly how I got to my position and why I voted the way I did. I want to make sure that I always give time for discussion with my fellow board members and consider their thoughts. That kind of collaboration and open discussion in a public forum is critical. I feel like an area we could grow as a board is taking advantage of public meetings to thoroughly discuss and debate and review all issues in front of the public so no one has to walk away thinking 'I don't understand why the school is doing this. Where did this policy come from? It doesn't make any sense. It seems like it all of a sudden came into existence.'"
Leave a Comment
About the Contributor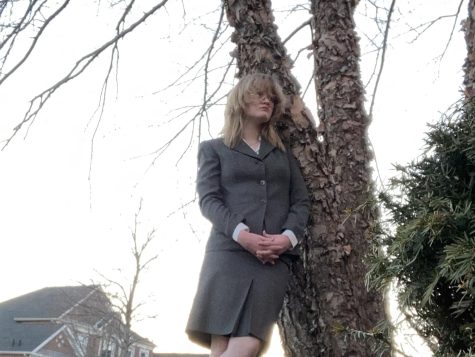 Arieis Feldpausch, Editor in Chief
Arieis "A" Feldpausch is a junior. This is her second year on staff. In her free time, Arieis enjoys indie folk music (specifically The Mountain Goats),...