Vote16MI promotes student civic participation
Juniors Krisha Ramani and Andrew Kim have been working alongside Michigan Senator Jeff Irwin and Michigan House of Representative Yousef Rabhi to change the narrative of the political participation of young people. 
Vote16MI, co-founded by Krisha Ramani and Sky Ueki is a youth led project to promote student voice and politics, specifically in elections that directly affect 16 and 17 year olds.
On Feb. 23, with the help of the whole Vote16MI team, they introduced two pieces of legislation: Senate Bill 886 and House Bill 5857.
"These pieces of legislation give young people who are educated, engaged and politically active the ability to have their voices heard," Ramani said. 
Krisha Ramani is the co-founder of Vote16MI, a youth led project to promote student voice and politics, specifically in elections that directly affect 16 and 17 year olds. She worked with Representative Rabhi along with classmate Andrew Kim to write the bill. 
Andrew Kim is the President of Politics Club and has worked several campaigns with politicians from both Democratic and Republican parties. 
Together they created a uniform learning process in hopes that it will be adapted across the state. 
"We essentially devised a thorough yet simple-to-understand learning program that introduces students to political participation as they progress through the school system," Kim said. "By grades three, eight and 11, students would be able to learn about the process of becoming a political candidate, contacting officials, voting and other various election processes.".
This learning program is part of House Bill 5887 that Representative Yousef Rabhi introduced. 
"Schools should not just be about training the next generation of workers, but should be about training the next generation of civic leaders as well," Rabhi, Democratic Floor Leader said in a press conference on Feb 23. 
He said he hopes the passing of these bills will lead to more civil engagement in the future. In addition to the House bill, Vote16MI leaders have drafted legislation as a part of Senate Bill 886. 
Once this legislation passes, general public "voters would decide whether to amend our [state] Constitution to allow 16 and 17 year olds to vote in school board elections, when and if their local district opts in," Irwin said.
Vote16MI, with the help of individuals like Kim, Representative Rabhi and Senator Irwin are looking to change the narrative for younger voters and encourage civic engagement. 
Both bills are currently in the committee stage. Vote16MI is planning to hold two lobbying days at the end of March, one virtually and one in person. 
 "We are trying to ensure that we are listened to," Kim said, "not just heard."
Leave a Comment
About the Writer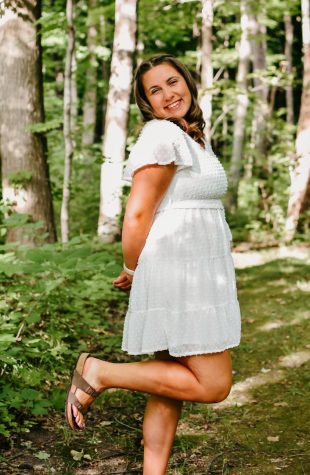 Makayla Stewart, Editor in Chief
Makayla Stewart is a senior and this is her fourth semester in journalism and her third semester as an Editor-in-Chief. When she's not in the throwing...