A Not So Snowy Ski Season
Lack of snow causes change in ski season
What do you see when you go skiing? Ski lifts, snowy hills, obstacles to attempt some cool tricks on. Well this is what skiers here at the high school get to experience during ski season.
Head coach Ben Fisher and assistant coach Enzo coach the ski team. Fisher is a retired science teacher, having taught in the district for some years. 
The season kicked off with dry-land workouts that were after school on the football field. Exercises, such as stretching, running and core workouts make up dry-land training. Athletes participated in balance training with pieces attached to their boots that helped them keep an athletic stance.
Alpine Valley, a popular ski spot in White Lake is where the team practices once snow starts to hit the ground. The team works through a variety of drills to obtain the correct stance and to help with carving, a skill where the ski is bent against its natural camber into an arc.
In Michigan, the racing season traditionally starts on Dec. 10, but due to the lack of snow in southeast Michigan, their season commenced Jan. 17.
"This year, we had to do more dry-land workouts than normal," freshman Kylee Salesky said. "Some races have also been canceled/postponed. The lack of snow has definitely made an impact on the tone of the season; it's a lot more thrilling when there's more snow on the ground."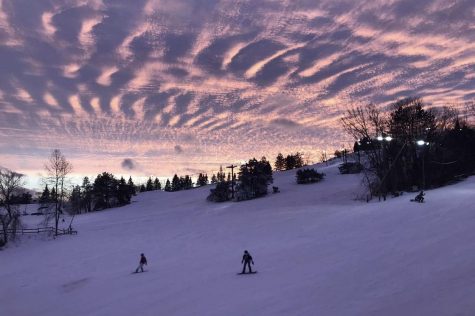 There are a few different ways to ski, slalom and giant slalom. Giant Slalom is the same as Slalom, but with wider turns. When the race begins, skiers/athletes hit a bar that starts a timer. You then ski around the sides of the gates. There are three types of gates: open, hairpins, and flushes. At the very end of the slope, there is a gate at which the automatic timer stops. When it comes to racing, players have race suits that are tight to help with aerodynamics. Students traditionally wear their normal attire (snow pants and a jacket) on days they're practicing. There are eight racers at a time. Varsity allows eight boys and eight girls with the fastest times. There is both a JV and Varsity team.
Leave a Comment
About the Contributor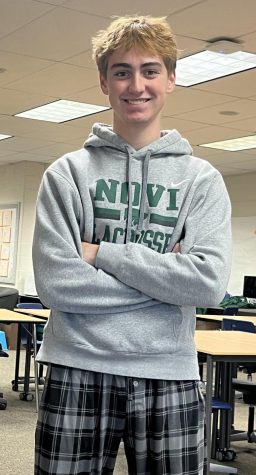 James Edwards, Staff Writer
James Edwards is a sophomore at Novi High School. This is his first year in journalism. When he isn't practicing, he's spending a lot of his time with...