Heat at the Hockey Rink
Ever been to a hockey game? That cold breeze coats the air, the ice chilling  the stands. The loud thuds of hits and the sound of scraping ice. Varsity hockey took on Milford in a season-opening matchup on Wednesday, Nov. 9. The atmosphere at the ice rink was diverting. 
More than 30 students showed up to support the team and players, along with many parents excited to see their boys on the ice for the opening game of the season. 
The game started out with a face off and within a few minutes of the first period, junior Gabe Armstrong flew down the ice, scoring on Milford, making it 1-0. The wild energy off the ice still carried on as the game continued, while on the ice, Novi was making big hits and dominating Milford. However, some plays led to some heated actions.
"One of Milford's players got a penalty and decided to break his stick and throw it on the ice," junior Mikah Schmoltz said. The player was ejected from the game and Milford received a penalty following the incident.
Throughout the second period, sophomore Trevor Reed and junior Jackson Kinter both scored, making the game 3-0 just before the third period. The crowd roared as Kinter scored, bringing the energy to a whole new level.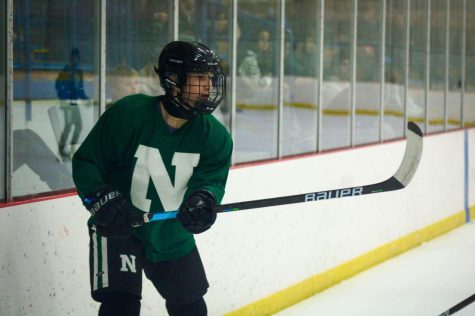 After dominating Milford in the second, Milford brought out everything they had in the third and made some plays, but still no dice. 
Neither junior Henry Lettmen nor senior Gavin Garcia let pucks into the net. Before the end of the third, Reed made one last quick play and put another point on the board, ending the game 4-0. The boys walked off the ice with their heads high, smiling, and many students and parents were there to congratulate them. They started off the season with a victory.
All varsity home games are held at the Novi Ice Arena off Novi Road and Ten Mile. The next varsity game will be Nov.16, away against the Brighton Bulldogs.
Leave a Comment
About the Contributor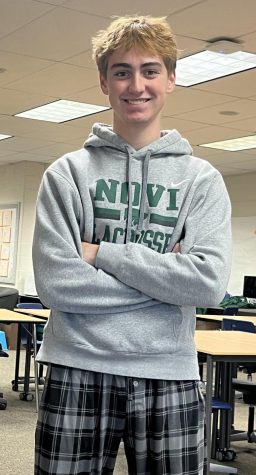 James Edwards, Staff Writer
James Edwards is a sophomore at Novi High School. This is his first year in journalism. When he isn't practicing, he's spending a lot of his time with...