Was consent training necessary?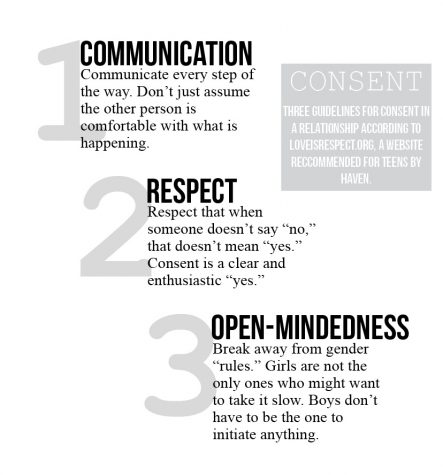 On February 4th the education and prevention center, Haven, began conducting senior consent training. Designed to increase a young adult's understanding of ethical/affirmative consent,, the training also included bystander responsiveness. The gender separated session was two hours long. 
As of February 15th, all Haven sessions have ended. Each person takes away different things. Some value lessons more than others. However, they technically weren't required. No punishment was given for not going or rather a punishment wasn't announced. Therefore, some students refused to go. The actual attendance may be unknown but, it leaves one to wonder, were they truly necessary? 
Haven counsels and advocates for victims of domestic violence and sexual assault. Their mission is "to empower survivors to heal, and engage all individuals and communities to address and prevent sexual assault and intimate partner violence." Haven educates nearly 30,000 people each year. They, along with the school committee that set up the sessions, felt consent needed to be addressed. But what about the students? 
Senior Shirin Bhagwagar found the session to be "necessary in helping women know what is and isn't sexual assault." The lines between what's not and what is can be thin. It's easy to end up in a situation that people interpret differently than others.
But not all students felt this way. Senior Matthew Hanna, said, "I support Haven but I believe consent is common sense."
 Can you blame him? You'd think consent would be common sense. Yet, nationally, the statistics across the board have only grown. Statista graph, compiled from FBI crime reports, shows there were 99,856 victims of rape last year. A number that only increased since 2013. 
The sessions got people like Shirin thinking about the MeToo movement and how it fits into Haven consent training as well.
 For the people that don't know, the MeToo movement was originally founded back in 2006 by a woman named Turana Burke. In Turana Burke's words the MeToo movement deals specifically with sexual violence. Turana wanted to support sexually abused victims and founded Just Be, Inc. 
However, the movement itself didn't blow up globally onto social media until 2017. Late 2017, in light of the Harvey Weinstein accusations, actress Alyssa Milano tweeted: "If you've been sexually harassed or assaulted write 'me too' as a reply to this tweet." And the world went crazy. 
Women started coming forth with their own stories. Journalists stepped in and showed support. The movement itself evolved past just woman, past just supporting victims, and into change. The movement began turning heads. People began educating themselves. Incidents continued to arise, meaning more people were speaking out. Time magazine named "The Silence Breakers" as the 2017 Person of the Year. It was and still is the time for change. 
When Shirin was asked if she or anyone she knows had experienced a consent type issue, she said, "yes," although, she declined to go into the details of the situation. 
A statistic on Haven's site states approximately one in five female high school students report being physically or sexually abused by a dating partner. It's likely Shirin isn't the only girl 
to know of a consent issue in our high school. These issues aren't new to Novi. They're however, not as loud as other issues such as drugs. 
A majority of sexual assaults or rapes are not reported to the police. In particular a survey from the Bureau of Justice Statistics claims, out of 1,000 sexual assaults, only 230 are reported. This is because the victim can feel self-blame, shame or embarrassment. Others believed it to be a personal matter or that the police couldn't do anything to help. Above all, fear was the biggest motivator to not report. 
On the other hand, the Bureau of Justice Statistics reported, 25% of people reported in order to prevent recurrence. These are a few of the many reasons that factor into whether or not victims report. 
In a perfect reality, there shouldn't be any victims. No sexual assaults. No rapes. No sexual violence. However, the only way we can get there is if people educate themselves and that starts with us. We are the students that can learn and do better. Consent training is necessary and I would bargain that most people would agree.