Pass the Aux – Winter Blues
I'm dedicating this column to my winter blues music. You know that time after all the celebrations and holidays, when everything is just cold and blue? These are the songs that get me through this period of time, with their warm funky beats giving an almost instant boost of serotonin. 
"I DON'T KNOW ABOUT HIM" – Roy Blair
EXPLICIT
Blair's music starts with a pretty simple beat, but with his backup vocals and use of synth, it transforms his music into a futuristic-feeling masterpiece. His lyrics just add to this gem of a song, talking about an ex-girlfriend and her boyfriend who gives Roy a bad feeling. "I didn't ask for closure on this Saturday morning, But the rain has been pouring, I got bags of explosives," referring to the baggage he has carried past the relationship. This song should be immediately followed by "FANTZIA" by Roy Blair; it's a rule. The transition between the two songs is lethal; it always makes me smile.
"Once you know" – Good Morning
Just like the band's name, this song feels like a warm cup of coffee in the bright and early morning. With the balmy, almost sunny use of the guitar and soft sung lyrics, Good Morning's "Once you Know" is a perfect song to give the winter time some brightness. The Australian indie band consists of Stefan Blair on vocals and Liam Parsons on the guitar. The duo creates bedroom-pop styled music, but adds a twist with the lovey and soft messages behind each song. If the fresh morning dew on tips of grass could be a band, I think 'Good Morning' would describe it perfectly.
"Friends" – Los Retros 
One of my newest favorites, "Friends" is a groovy toned song with a super cute "More than friends" story ingrained into the lyrics. "I hope you like me too, The same way that I do," is just one of the many examples. Los Retros, a.k.a Mauri Tapia, is a young, Mexican-American artist based out of California. He sings and plays all the instruments heard in his songs, like drums and guitar, adding a personal touch to all his music.
Good Days – SZA
EXPLICIT 
The first thing that comes to mind when thinking about "Good Days" is sticky 90 degree weather, tart lemonade, bathing suits and baby blue skies. It's a feeling needed to get through the harsh cold of winter, coming from a girl who doesn't even like the summer time all that much. Solána Imani Rowe, going by her stage name SZA, is an incredible singer and songwriter from New Jersey, with popular albums like "Ctrl" and "Z." With R&B being her main area of focus, her voice and songs are a favorite of many. "Good Days" is a mantra of positive vibes and positive days, getting any "empty mindset" feelings out of the way.
Leave a Comment
About the Writer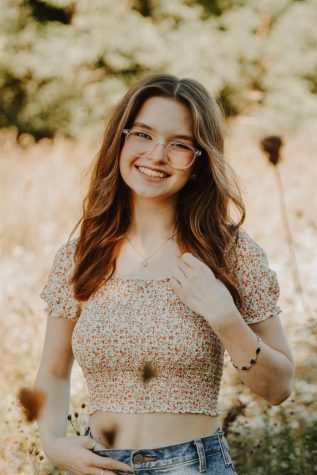 Lily Stroup, Editor in Chief
Lily Stroup is a senior at Novi High School. This is her second year being one of three editors-in-chief, and her third year on staff. She loves photography,...