Pass the Aux – Valentine's Day
Romantic songs are great and all, I just can never get behind the cheesy, repetitive ones that make you want to rip your ears out. Here are my top incognito-romance songs that'll fit perfectly into your playlist. 
"Better Friends" – BETWEEN FRIENDS
"Better Friends" is almost like a narrative with it's descriptive music and lyrics. The song tells the story of two friends, becoming more than just friends, and going on midnight adventures together. They're trying something new, taking risks and enjoying the experience along the way. This song gives off such a unique vibe, with the use of synth and an underground concert feeling. This brother-sister duo creates electronic songs, adding an edgier twist to the path usually taken with more affectionate songs. 
"Candy" – Kate Bollinger 
"Candy" by Kate Bollinger was a song made for Valentine's Day. You can almost taste the chalky, sweetheart candies and visualize the mushy greeting cards through the lyrics. She describes the person as her addiction throughout the song, wanting to always be on his mind with all the "small things." Bollinger takes an airy, melodious tone throughout the song, giving it such a sugar coated, tender feeling. Almost as if someone is proclaiming their yearning and undying love to you.
"She Needs Him" – Her's 
The late band Her's was a staple in the indie pop community. The duo passed away due to a terrible car accident back in March 2019, and is missed dearly by the music community. Her's consisted of Stephen Fitzpatrick on vocals and Audun Laading on guitar. Taking a dreamy, bedroom pop tone to all their songs, Her's is a love story of a band. "She Needs Him" is one of my all time favorite songs by them as an avid fan, with lyrics like "don't say that she needs him, That he needs her," repeated throughout the song, shows the desperation the singer is experiencing for this person.
"Sad Valentine" – No Vacation 
Now, this one I saved for last since it is a little different from the rest. This song takes more of a "single on Valentines Day" type of approach that you can seriously rock out to. With the jumpy rock beat, anti-love lyrics, and James Shi, the drummer, going crazy, "Sad Valentine" is not your basic love song. No Vacation is a surf rock-pop band based out of San Francisco, consisting of Sabrina Mai, Marisa Saunders, Nat Lee, James Shi, Rob Mills, and Harrison Spencer. I love listening to this song right around this time, because the lyrics relate directly to the romantic feeling of February whether you're in a relationship or not. While this definitely isn't a romantic love song, sometimes a good mixture of both can keep you balanced.
Leave a Comment
About the Contributor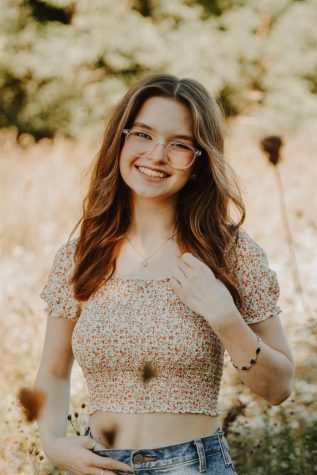 Lily Stroup, Editor in Chief
Lily Stroup is a senior at Novi High School. This is her second year being one of three editors-in-chief, and her third year on staff. She loves photography,...