Student social experience on the line as club activities move online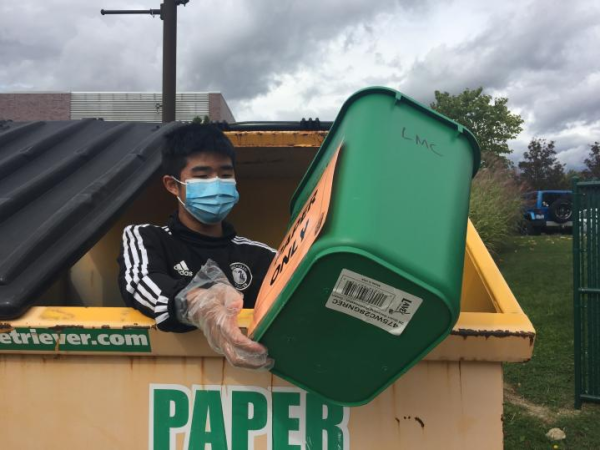 Ding-dong! The sound of the electronic bell rings from the computer as another student is let into the Zoom from the waiting room. This is only the beginning of the new reality for the majority of clubs and activities this year, as the COVID-19 pandemic forces schools to move their mandatory club activities to a virtual environment. 
Girls Who Code President Serena Fan said that the club is operating similarly to any other virtual club this year. 
"We take attendance through Google Forms now, and obviously it's through Zoom," Fan said. "But what's been really nice is that we're able to host events within our club meetings that we normally aren't able to if we were in person," said Fan.
One of these events includes a Women in Technology panel where four women professionals working in the industry are able to share their experiences and answer questions that club members have.
Despite the efforts being made to keep club activities running smoothly online, there are still problems that have resulted from the change.
Math Club President Venkatesh Alagappan said that one of the biggest challenges this year involved moving the team's competitions online. After one of three competitions was completely cancelled, he suggested to the club sponsor Mrs. Brach that they should add a new one, Harvard MIT Mathematics Tournament, to allow the members to have another opportunity to compete. 
"I think adding our competition this year was definitely a bit of a struggle, especially since making teams and everything took a while. It took a few hours just to get everything sorted out, but I think now that everything's working, it's around similar to what we had last year," Alagappan said.
Regardless of the accommodations, Math Club also saw a decrease in club membership this fall, which Alagappan attributes to an entire competition being cancelled. He said that some people may have chosen not to join since such a key component of the club was lost.
To French Club co-CEO Anna Ho, the problem lies more in the lack of in-person communication and ability to inform students about upcoming meetings.
"I think some of the cons are definitely not having that human interaction and also not having food, because [it's] a huge driving factor for a lot of clubs, actually," Ho said. "And then, spreading the word, […] now it's kind of hard to get the message out, because we have to use social media more, or Peachjar."
The school is using Peachjar as an electronic flyerboard for students to view information about upcoming club meetings, activities, and other events being hosted throughout the school year.
Although each club has had setbacks, there was a common sentiment that virtual meetings had their own merit. 
Fan said she felt her personal involvement in clubs and activities wasn't hindered by the switch, and considered it beneficial to have the virtual meetings since it opened up opportunities for the club that simply wouldn't have been possible to conduct in-person.
"For members in Girls Who Code, I'd say they'd be more involved," Fan said, "because I think it's more accessible now to just hop on a Zoom call and not have to travel to go to a meeting."
For both Fan and Ho, the virtual aspect was something they decided they would actually prefer to merge with in-person meetings in post-COVID circumstances. 
"If we were still able to do in-person [meetings] in the future, once COVID is over, I'd want it to be in-person," Fan said. "But that being said, the pros that we've been able to benefit off of, with being virtual, I'd still like to possibly continue hosting events but it'd be virtual; the club members would be meeting in-person in the classroom, and then they'd be Zooming to other panels for whatever event, virtually, like half-virtual, half in-person."
Leave a Comment