Hopping to the mic: Jack Giddings' podcast "Poison Dart Frog" reaches across the school
In Dec., Senior Jake Giddings started a podcast series called "Poison Dart Frog" in which he brings other students on to talk about various topics that come to mind, with occasional episodes, called "Solo Mission"s, being held by himself.
"I was super bored. So I was like 'I'll just listen to the Joe Rogan podcast'. It was really interesting," Jake Giddings said. "So then I just got super into asking random questions. Mr. LeTarte, he kind of brought to my attention that I could have a podcast."
Nicholas LeTarte, the Broadcasting TV News, and French teacher, said he told Jake that he should have a podcast.
"He's very vocal," LeTarte said. "It was always bringing up bizarre topics about life and wanting to start a topic and conversation about it. And he was always trying to get me off topic during class."
Giddings said he wants to bring interesting people onto his podcast, such as those on the robotics team or have their own rap crew. 
"I somewhat get to know other people first before I interview them," Giddings said. "So a lot of the time it's people who have something interesting or like they have like a grind."
Giddings said those that are interested in being in the podcast can go see him in person, or email him and he will give them an Advisory pass.
"With the way that my classes are set up and with Advisory, Advisory is the best time to get the podcast done, so it's easy," Giddings said. "People can travel so it's made it more like a school wide thing rather than just my class. So the easiest time to do it is one day a week, but I did get a microphone for my room. So even when school is over and I won't be in school, I'll still be able to post podcasts at my house."
Giddings said he records in a podcast room in the broadcasting classroom that has two microphones and a MacBook. LeTarte said there is a room for podcasting in the works called "Studio Six".
"If it's an outlet that interests you, then you should definitely have a place to do that," LeTarte said. "My goal is for that room that we're building 'Studio Six' to be open to anyone in the school to do any kind of podcasting they want."
LeTarte said he would also encourage students to sign up for Broadcast Communications, where they actually learn how to conduct a podcast in class.
Giddings said most of the cuts within his podcast have been from someone saying a curse word, interruptions from LeTarte or the bell, or surpassing the 30 minute limit of the audio editing software and having to set up a new audio file.
"I kind of want it to be a no cut type of thing," Giddings said. "So you're getting like the actual person rather than what I want them to be."
Giddings said he likes to get constructive criticism, and has gotten a lot of helpful tips, such as how to change the volume levels with what he doesn't always notice to be off.
"When I edit the podcast, it's more so what the listener wants. I also get complaints sometimes about it being boring, but it's like you don't have to listen to it," Giddings said. 
LeTarte said there are more things to making a podcast than simply hitting record, like setting up background music, an intro, editing, and polishing the piece.
"I think he's learned a lot. That there's more than just hitting record and then being done," LeTarte said. 
Giddings said he really appreciates all of the people that are interested and that tune in.
During third hour, Giddings goes into the room and works in setting up the microphones and checking the audio as well as his analytics. He said recording is purely in Advisory and he checks his analytics almost everyday, hourly.
"You can also see certain states, like, I have 89% are in Michigan, 7% in Ohio, 1% in Georgia and 1% in Texas," Giddings said. "One thing that's super cool that it actually showed me was that 1% of my listeners are actually in the UK. So it's like international, you know. It's super cool."
Being able to monetize his work, Giddings said, is something that he would like to keep for a while.
"I'm proud of the work he's put in. He has definitely got himself a schedule and he records during Advisory. He even does it outside of class," LeTarte said. "He's done a good job of just kind of setting up interviews and it's pretty neat to listen to on the radio."
Leave a Comment
About the Writer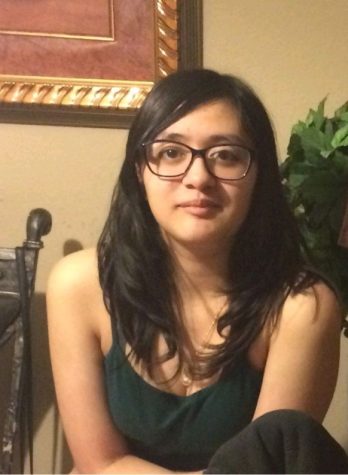 Lizbeth Hernandez-Alvarez, Staff Writer
Lizbeth Hernandez-Alvarez is a senior. This is her first year being on staff. When she isn't wasting 6 hours of her life playing Dokkan, she is trying...